Quick Start Guide
This is your guide to getting your Gibi Device setup quickly so that even if your pet is naughty and runs outside to chase a squirrel you can always find them wherever you go.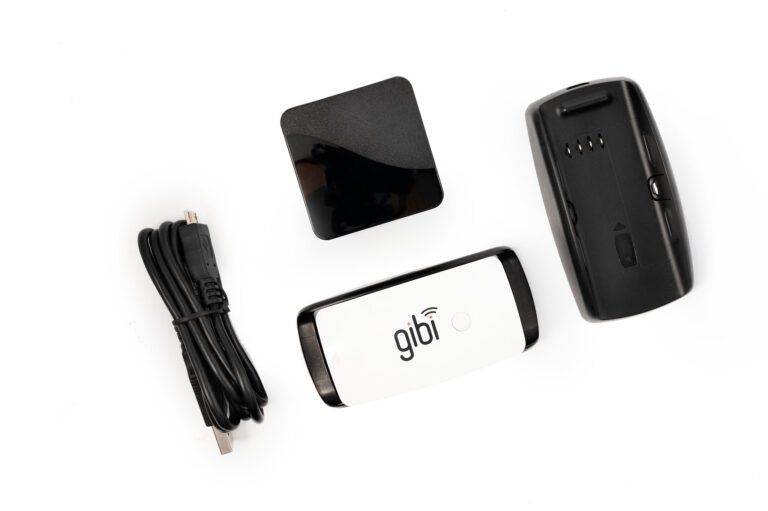 1. Power up your Gibi Device
Step 1.

Attach Cable mini USB end to charger cradle.

Step 2.

Attach cable USB end to power adapter (or to a computer USB port, then skip to step 4.)

Step 3.

Plug the power adapter into wall outlet.

Step 4.

Slide Gibi device into charger in direction of grey arrow on top of device.
The light will be GREEN for about 20 seconds while it connects with the Gibi network, then RED while it charges, then GREEN again when fully charged. If your device is connected to the Gibi App you will also get a fully charged alert. A fully depleted battery will take about 2 hours to fully charge and should last about X hours.
2. Create & Setup Your Gibi Account
Step 1.

Create and set up your Gibi account. Using a computer or a tablet, go to login.gibi.com. Click "Create account" and fill in your info. Sign up for the yearly or monthly plan.

Step 2.

Create safe, zones to receive alerts if your dog is in or out of an assigned safe zone.

Step 3.

Get your dogs, current location and see your dogs tracks (Pet History).

Step 4.

Set up alerts to be sent to family and friends, and any caregivers.
3. Orient Your Gibi Device
Step 1.

Look to see if there is a paw print on the map. If you already see a paw print on the map, your Gibi is oriented and you can skip directly to attaching Gibi to your pet' collar section.

Step 2.

If not, when your Gibi is fully charged, slide your Gibi out of the charger.

Step 3.

Take your Gibi outside to a clear line of sight to this guy

Step 4.

Wait up to 15 minutes until a paw print shows on the map. What do you see a paw print on the map, your Gibi is oriented.
4. Attach Gibi to Your Pet's Collar
Step 1.

Thread your own collar or harness through the Gibi with the collar going under the clip as shown.

Step 2.

Slide the Gibi device onto the clip from right to left (in the direction of the gray arrow).

Step 3.

You will hear a click when attached properly.

Step 4.

To remove Gibi device just slide firmly from left to right (opposite of the gray arrow).